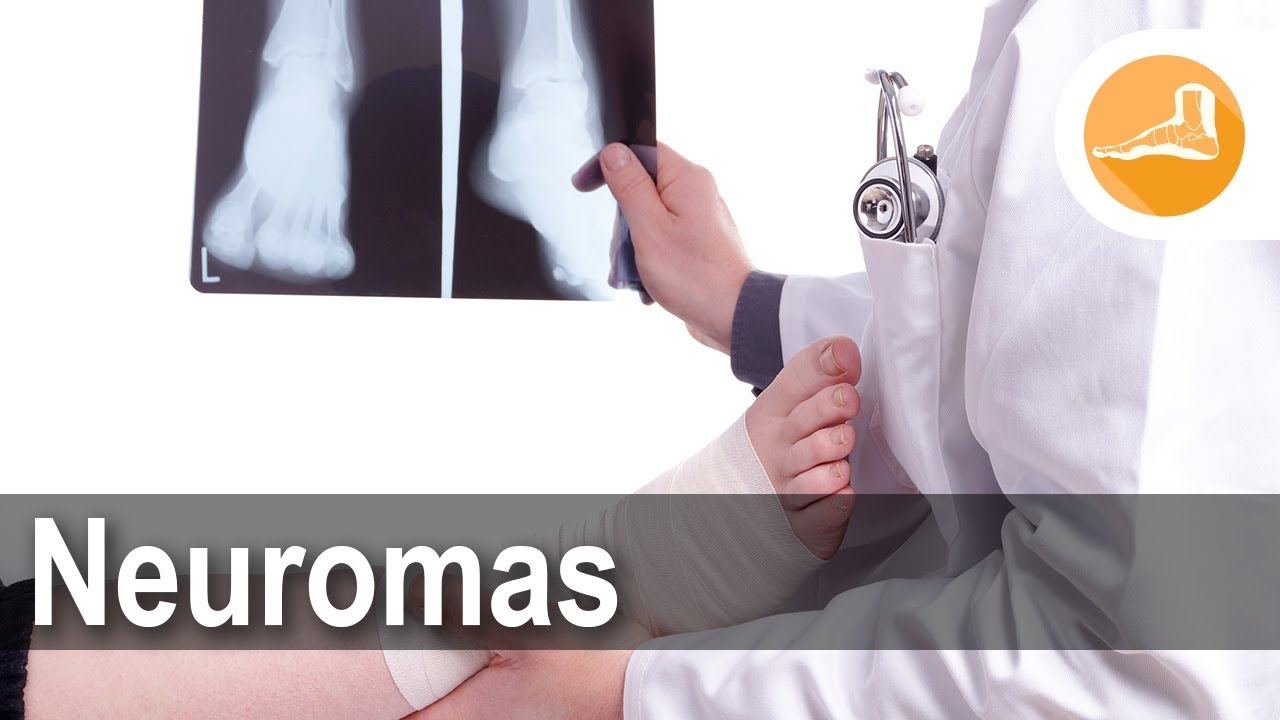 Neuromas and Treatments
Video Transcription
So, let's talk about neuromas. So, we see a lot of patients that come in with really fore foot pain, and so what's a neuroma? So, neuroma is just an inflamed sensory nerve. So, in between the toes, is a sensory nerve. It has no motor function, doesn't allow your toes to move. It's purely sensory. What happens is, it goes in between the toes, and actually goes under a ligament, and as it takes a sharp turn straight up, and then it forks off and innervates your toes.
Well, over time, that ligament can continue to hit that nerve and cause it to get thickened, and very inflamed and very sensitive. And classic presentation is sometimes the toes get a little numb, excruciatingly painful. Feel like they're walking on a marble. And so, generally speaking, very difficult to treat from a non-operative standpoint. In the past, there's a lot of people that have tried to inject them. So, you can inject some numbing medicine, which is just temporary. Sometimes they'll add a steroid with the hopes that the steroid calms down the inflammation around the nerve. And some even inject alcohol into the neuroma with the hope of trying to kill the nerve.
Well, there's been great literature that supports against using alcohol, because what happens is, I have found patients that have come to see me after being treated somewhere else, they've had alcohol injections, and it wears out the fat pad in the bottom of their foot, which creates another huge issue. So, I would highly go against using alcohol for a neuroma. I typically don't inject anything in that space. If you have a neuroma, it's not going to go away. It may stay the same, so we typically just take them out.
So, how do you do that? Well, we take you into a surgery center, make a small incision. It's about a 10 minute procedure on top of your foot. We don't cut on the bottom of your foot. We go down, and we release that little ligament I talked about, find the nerve, which is thickened in disease, and we just basically cut that nerve out. So, you're a little bit numb in between the toe spaces, but that's okay. It has no effect on the way your toes move or the way you walk, and it gets rid of your pain. And the only indication to really do this is if the patient comes in complaining of pain, and just can't take it anymore. That's typically how we treat neuromas.
And while we're talking about nerves, I want to just throw in there about neuropathy. Neuropathy in general is just disease of the nerves. I see a lot of patients that get referred from their primary care doc saying got foot pain, go see Dr. Nielson. Well, that's okay, but I just want to explain something. If you've got bilateral foot numbness, tingling, burning in your feet in both sides, generally speaking, that's neuropathy. And that's just disease of the nerves, and a lot of people think you have to be a diabetic to get neuropathy, and you really don't. My father-in-law even has neuropathy. He's not a diabetic. So, it's typically a medical treatment. A good neurologist, a good physiatrist can get an EMG, or a nerve study on your foot to diagnose you with neuropathy, make sure it's not coming from your back, because it could be a disc or something pushing on a nerve. But a nerve study is what needs to be done, and then if you got neuropathy, that neurologist or physiatrist should be able to treat you with some Neurontin, or Lyrica, or some type of nerve medicine, and try to ease that, but it's not a surgical treatment, unfortunately.
But that's a little bit about neuromas and some neuropathy. Hope that makes sense to you.