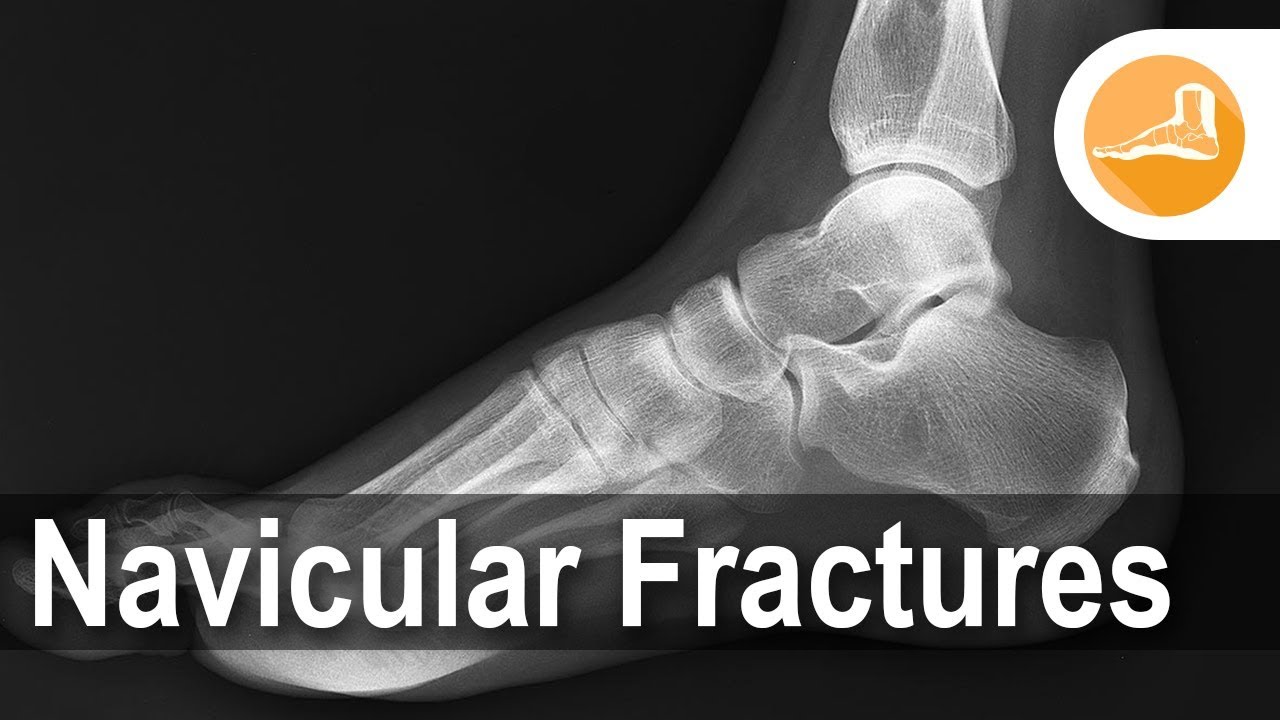 Navicular Fractures
Video Transcription
Today we're going to be talking about in navicular fractures. This is a very rare fracture, but I would say one of the more important bones that you need to know about. So unfortunately, these two are often misdiagnosed or there's often a delay in diagnosis, but the navicular bone plays a very important role in your foot. So essentially here's your foot, this is your big toe. We call this sort of the medial ray, if you will. We break the foot up into three parts, your forefoot, your midfoot in your hind foot. The navicular lies sort of in that midfoot region. And what it does is, is the midfoot serves as a pivot point.
So when you heel strike and your foot hits the ground, and as you push off, you kind of lock your midfoot, which allows your calf muscle to contract and pull your heel up and thrust you forward. And so there's a lot of forces going through this midfoot, specifically the navicular. And so it acts as a nice link through this whole medial column of your foot. So what happens is, these are can be real subtle injuries or they can be something traumatic like a car accident. You typically don't have people walking in our office every two weeks with a navicular fracture.
Again, these are very rare. I tend to see more athletes that have in navicular fractures and typically they're navicular stress fractures, meaning that they've stretched this bone in some capacity, they've either overused it, or stressed it in some capacity playing all year round sports, maybe running in a marathon, maybe a weekend warrior picked up say tennis for the first time in three years, and started playing five days a week. So you're overloading the column of the foot.
Sometimes people have flat foot issues where their arche is collapsing some. And so they tend to load that navicular little bit more than other people. Either way, it lies real close to the ankle joint. And so typically people come in and say, my foot hurts. And it's sort of a vague pain and they kind of point, they can either point on top of the foot or point on the side. When they put on the top, it's so close to the ankle joint, people automatically think it's an ankle problem. And the reality, it's a navicular problem. And so you have to have a very high index of suspicion for a fracture.
And so for the subtle ones, which are more, harder to find, these things linger for months. And the key to this is having an early diagnosis. And so they come in, typical pain. You typically palpate around and typically it's dorsal pain, right over the navicular bone, sometimes it's on the side. And on the side there's a very important tendon that attaches called your posterior tibial tendon. And that's what allows your heel to come off the ground as well. It supports the arch. And so the tuberosity is the part that's on the side. And that can be [inaudible 00:02:44] off in some type of injury.
But typically there's an avulsion fracture, or a stress reaction in that navicular bone. And that stress reaction, if it's not caught early, it can lead to a more advanced problem where the bone actually cracks and actually have a full fracture where the bone's in actually two pieces. That's something you want to avoid because of all the bones in the foot and ankle, the blood supply to this bone is there's really the most unique blood flow of all the bones out here. So blood flow comes from the top and also comes from the bottom, a little bit of perforation from the side. And so there's areas in this bone where the blood flow gets compromised, that bone will die.
If you have [avasc 00:03:24] or necrotic or dead bone, that's a problem, because then that bone has to come out. And if that bone begins to thin and collapse, you lose that medial arch we talked about, and then the foot begins to collapse. And that's a problem. You have to fill something in place of that, do some type of salvage fusion procedure, which is very involved, and your foot's never the same. So someone comes in with a stress reaction, typically x-rays are normal because it's very hard to diagnose. You don't see a fracture because you can't get the plane properly.
So oftentimes she'll get an MRI, and the MRI shows the stress reaction in that bone. And if there's a stress reaction in that bone, you need to get a CT scan because a lot of times that stress reaction won't show an actual crack. And so if there's a stress reaction in the bone, you get a CT scan, there's no fracture that can typically be treated non-operatively, maybe in a splint or a boot, non-weight bearing or a boot walking on their heel. And then you have to follow these things, takes a long time for these to heal. Sometimes eight, sometimes three months, eight weeks to three months, somewhere in there.
Other times if there's an actual fracture line, we'll actually take those cases to surgery and we'll put screws across that bone. We'll drill some holes across that bone and then try to get a screw across to compress that bone to aid in healing. With the advent of Biologics, now Biologics play a huge role in some of these treatments. We can sometimes take bone marrow aspirate from your pelvis, from the heel bone, and we'll concentrate those stem cells, and we'll inject that into the bone and put a screw across that to help heal that.
So, a rare fracture in summary. Oftentimes if it's truly, there's no crack, can be treated typically non-weight bearing with strict follow ups, maybe with even MRIs. If there's a fracture through the bone itself, it needs to be fixed. And make sure you seek a good professional who knows what they're doing, how to treat these, because they can be devastating. And if you want more information on this, please visit my website nilssenorthopedics.com and look up navicular fractures.