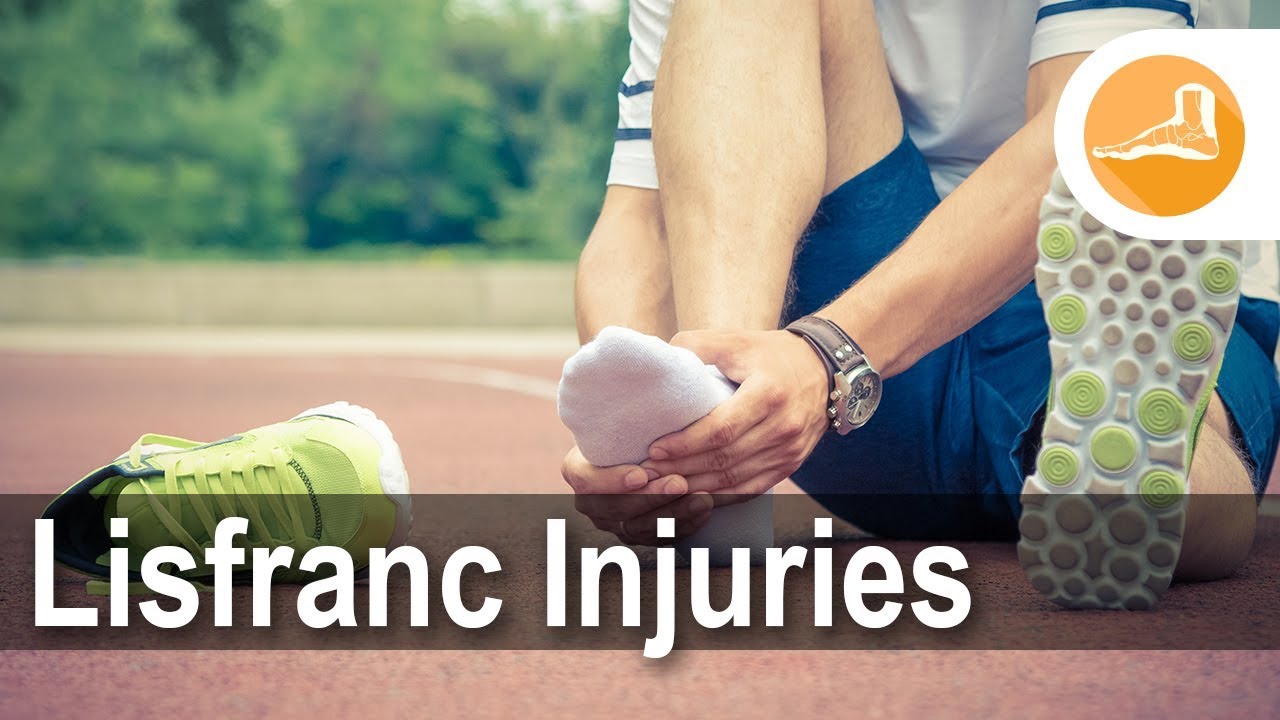 Lisfranc Injuries
Video Transcription
So today we're going to be talking about lisfranc injuries. These are actually my favorite injuries to discuss because the complexity of the injury. It's a very interesting injury. They're often misdiagnosed. It's one of the most misdiagnosed injuries that presents themselves in emergency rooms. So typically what happens, the mechanism of the injury is always the most important thing when discussing an injury. Oftentimes it's a football player or a soccer player, jumps up in the air, they land on their foot, and just a subtle landing with a lot of force can cause the midfoot to be injured.
Other times, somebody can land on their foot in a hyper flex position, and some of them will land on the back of their heel. And what that'll do is it'll drive the foot down in the ground. And so this midfoot region through here will splay apart and it can be very subtle. They can get a subtle injury of the midfoot where they'll sprain a ligament, or it can be much more involved where they actually dislocate or sublux bones.
And so we break the foot up into the forefoot, midfoot, and the hind foot. And so this injury [pertails 00:01:12] to the midfoot. And it's interesting how we were designed because the midfoot, essentially it acts like the Roman arch. If you see how the Roman arches were made with those blocks of stone, they're very, very stable. And that's how this midfoot is. These are called cuneiform bones. And so they form a nice arch, and the metatarsal bones key in very nicely. And for whatever reason, there's a ligament that attaches from each metatarsal at the base as it goes one and keeps them nice and stable.
Well between the second metatarsal in the first metatarsal, that ligament doesn't exist. It actually makes a hard turn and attaches to one of the cuneiform bones. So it leaves the first metatarsal somewhat free, much like your thumb. So for that reason it provides an area of weakness when you land a certain way. And so like I mentioned before, they can be very subtle. So typical presentation is, for the subtle ones, they come in the emergency room or your office and they've got midfoot bruising and swelling. And so one of the telltale signs on the plantar aspect of the foot, which is the bottom of the foot, you'll see a band of swollen, an area of swelling tissue along with some bruising and then also see some bruising on top. They're typically pinpoint tender on top of the midpoint as well where you palpate.
There's something called a piano key sign. So if that ligament becomes unstable, we can take our hands and we can stabilize these metatarsals and we can kind of squeeze in between and the first metatarsal will piano key and be very unstable. And so those are clinical findings that we look for. But again, I mean for someone, we see this every day so it's very easy for us. Whereas people that don't see these every day are often over-missed, and you have to have a high suspicion. And my assumption, anytime I see bruising in the midfoot or they're tender in the after an acute injury, I assume it's a lisfranc injury until proven otherwise.
So x-rays, a lot of times people get non-weight bearing views, which really is not beneficial because it can be missed. The key is to get someone to put weight on it, which is very challenging because their foot hurts and they don't want to walk. And so if you can get them to put some weight on it, it's very important that you load the foot. And when you load the foot, that's when you'll see the subtle dislocations where it'll sublux over and it won't align with one of the cuneiform bones. That's a subtle pickup you'll look for.
More advanced imaging obviously is a CT scanner. And again, most CT scanners are non-weight bearing. We have the luxury of having a weightbearing CT scanner right here in the office. And so what we'll do is we can put the normal uninjured foot next to the injured foot standing and get weight bearing views and pull that up on the screen in about a minute after it's scanned and have the luxury of identifying these subtle injuries and see if there's any variation. And that's what's so nice is because everyone's different. We have guidelines that we go by, but every individual is different.
And so what may be abnormal-looking on a single x-ray for one person may be normal for somebody else. So it's a very nice luxury to have. Obviously there's motor vehicle accidents where these are traumatic dislocations where the whole foot subluxes and that's a much more devastating injury. So the concern is for, it's just a ligamentous injury where the ligament's torn, and the foot, if it's partially torn and not really unstable, those can be treated non-operatively, typically in a cast, non-weight bearing for a few weeks and then advancing to a boot. But these take a long time to heal and if you're going to go non-weight bearing, you have to be sure that you're being treated by someone that sees these injuries and knows what they're doing. So weight bearing views, high, very detailed clinical examination and probably an MRI or a CT scan.
MRI is typically the gold standard for most people. I like the CT scan because it's a weight bearing, and like again, most people don't have that luxury. If it's a true subluxation, the concern is at the end of the bone is cartilage and cartilage is that precious material we're trying to preserve. And when you have a shear injury, a lot of times it will shear the cartilage off. And what'll end up happening down the road is they'll end up getting post traumatic arthritis. And so if there's any variation in the anatomy, we typically are very aggressive and we fix this. And the reason we take this to surgery because we want to restore the anatomy and return the foot to its pre-injury condition. And oftentimes that involves sometimes open incisions. Sometimes we can do in percutaneously with small poke holes. Oftentimes it's screws, sometimes it's plates.
But we've gotten so good with our hardware that are some really good anatomical plates that can align everything perfectly how it was before the injury occurred. And so in summary, these can be real subtle, they can be very complex. But in all, they're bad injuries to occur. Very common in the NFL. They end people's careers. But you just want to make sure you're seeking proper treatment and getting a professional that knows what they're doing and how to treat these. If you want to get more information on this injury, please visit our website, NilssenOrthopedics.com, and look up lisfranc injury.