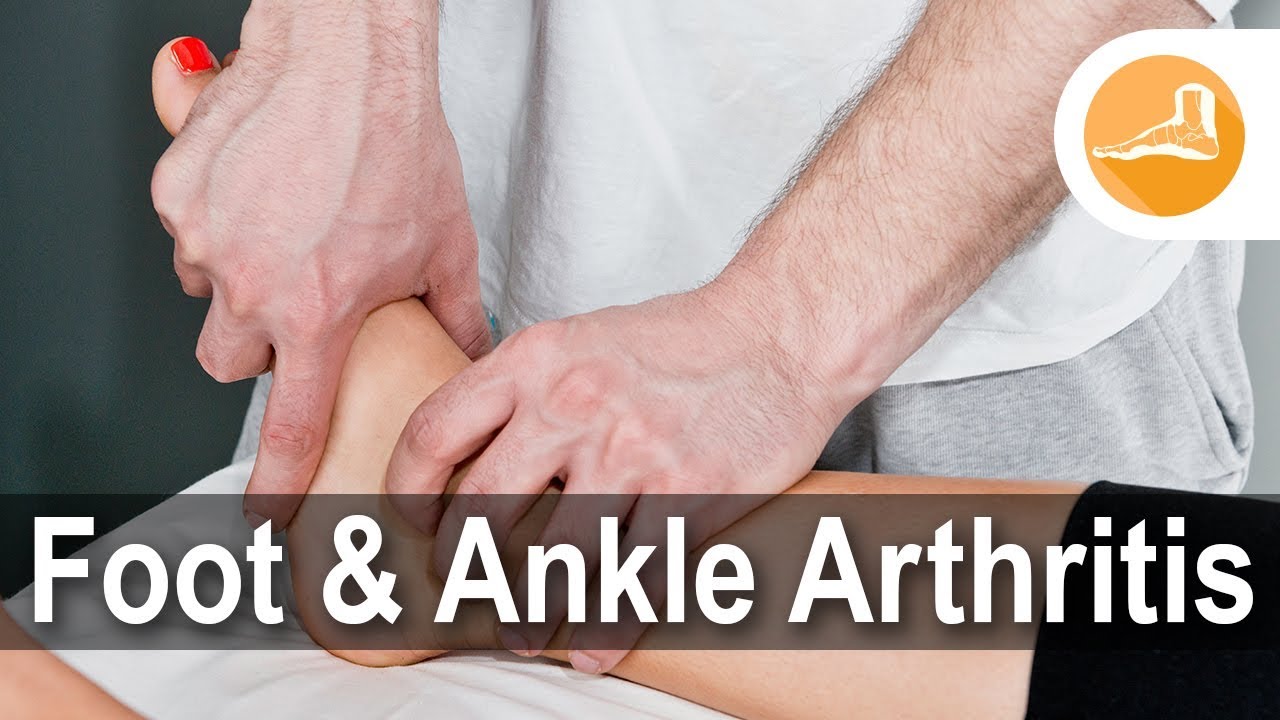 Foot and Ankle Arthritis
Video Transcription
Let's talk about arthritis. Arthritis is, pure and simple, is the loss of cartilage. It's not the presence of any kind of disease, it's just the loss of cartilage. Now, within arthritis, you can get it a number of ways. Say, for example a rheumatoid patient, so there's inflammatory arthritis, where the body actually eats its own cartilage. Some people get post-traumatic. Say you're in a car accident and you break a bunch of bones and you hurt a bunch of joints. As time goes down the road, you begin to lose cartilage because of the trauma, so that's post-traumatic arthritis. Post trauma loss of cartilage. There's also a genetic component. Some people say, "Well, I've got osteoarthritis." Well, osteoarthritis is just wear and tear over time and you lose cartilage. Maybe some genetic component, may just be because, but either way, you lost cartilage.
Unfortunately in the foot, there's over 20 joints in the foot, so versus the knee, there's really one joint. We've all known about knees, so if someone gets arthritis in the knee, you treat it non-operatively with some anti-inflammatories, physical therapy, some bracing, maybe a knee scope, and eventually they go on to what's called a total knee replacement. We use some of the same principles in the foot and ankle, but it's a little bit different because there's so many joints. It's much more complicated than the knee, my personal opinion.
Arthritis. So, we break the foot up into three segments. There's the hindfoot, the midfoot, and the forefoot. In the hindfoot, it's typically made up of two joints; the ankle joint, which makes your ankle go up and down, and the subtalar joint, which is under the ankle joint and gives you that side to side motion. If you're walking on an incline of a hill sideways, it's that subtalar joint which is what's going to give you the stability. Going to the beach, that subtalar joint's really rocking, really firing for to keep you stable.
Ankle arthritis. Again, irrespective of how you got the arthritis, what can you do about it? Well, much like the knee, we try non-operative treatment first, bracing, a boot, anti-inflammatories, physical therapy. We try all these things and exacerbate this, and comes down to really one question; how much pain are you having, and how is this affecting your activities of daily living? Things you like to do. When you begin to travel less, can't go to work, have a hard time going to the store, trying to plan out where you can park, you start getting into indications where what can we do surgically to that ankle to make you better? Again, we're really treating pain and function.
From an ankle standpoint, there's really two procedures in general that we can do. We look at ankle fusions, and total ankle replacements. Ankle fusions; people get spooked because, "Well, you're going to fuse my ankle and my foot won't move." Well, that's totally not true. Like I said, the foot has a hindfoot, a midfoot, and a forefoot. We can fuse your ankle, people think the entire foot is locked in, it doesn't move, which is totally not true. You get compensatory motions of your forefoot and your midfoot, even some of your subtalar joint. You can actually have someone fuse their ankle, walk down the hall, sometimes you can't even tell they've had an ankle fusion. Again, it's for pain and function. We do plenty of ankle fusions. It's a great procedure, it's stood the test of time, it's still sort of the gold standard as we speak today.
From a total ankle perspective, they started off in about 1998, 1999 in this country. We're behind total hips and total knees, but they've made tremendous strides, and actually it's a darn good procedure. We're doing total ankles now. The technology is just so advanced now. We're actually accumulating long-term data now and getting ten, 15 year results. The big knock on these total ankles when they first came out was, well, they fail within a year. Who wants a surgery that's going to fail in a year? That's all changed now. We've got people that have these ankles in for ten, 15 years that are still going. It's a great procedure. A lot of different companies have come out with different ankles, and we have one or two that we typically like to use. It's pretty cool, we actually can CT scan your ankle, we send the CT scan off to the company and they actually custom make cutting jigs and the instrumentation to fit your specific anatomy, which is, to me, what I call a game changer. It makes our life easier, makes your recovery better, and that's really what it's all about.
Two great options. It's sort of patient dependent, what's your situation, what kind of things you like to do. We look at your lifestyle, how active are you, what are your goals, how old are you? There's a lot of things we look at. Everyone's treated dependent upon what your situation is. Either way, ankle fusions are typically non weight bearing for six weeks, total ankle replacements you're off it for four weeks. The recovery period is not that much different, and your rehab and stuff after that is all just the same for the most part. Both viable options.
Subtalar joint, unfortunately we cannot replace your subtalar joint. Typically for that, when that joint wears out, we fuse your subtalar joint. Again, your subtalar joint only has about five to ten degrees of motion normally. So post-traumatic, like heel fracture, you fall off a ladder, break your heel bone, five years later joint's killing you, we go in there and fuse that. It's a very simple procedure, about 45 minutes. We go in there and prepare the joint surfaces, expose it, get good bleeding bone, put it together. We typically use one screw, sometimes two screws to compress that joint, and over time the body sees both sides of the bone, it begins to fuse and become one. Your pain goes away because there's no joint.
People always ask, "Well, after you do this surgery, is the arthritis going to go away?" Well, arthritis involves a joint, and if we fuse your joint, there is no joint. That pain should go away completely. That's a subtalar fusion. Downside for you is we see you every two weeks for six weeks, then at six weeks we CT scan you, make sure the bone is fused, and the bone starts to fuse, then we get you into a walking boot, you can begin to start walking. At that point, do some physical therapy, but it's a recovery. Bones completely heal about six to 12 weeks after surgery. That's a subtalar fusion.
Moving down the foot, in the midfoot and forefoot, same issue. There's a lot of small joints. The only other joint that could possibly be replaced is the first big toe, the big toe joint. I personally do not do big toe joint replacements. I typically take a lot of those joint replacements out. I have a cup in my office, has a lot of paperweights in there. It's an expensive paperweight. I don't think those joint replacements, they put a metal cap on one end, and I just, in my hands and my experience and what the data shows, I don't think that's a great surgery. For big toes we can go in there and clean the joint out itself. We can actually just go in, give it a clean up job, it's called a cheilectomy. You don't burn any bridges. It may buy you some time. If you still have pain in that big toe and the joint's completely destroyed and you're not doing so well, you always go back and fuse the big toe. We fuse the big toe joint, leave the joint distal to that joint open, exposed, and it's a great surgery. Patients are very satisfied. Works really well.
In the midfoot, there's so many joints in the midfoot. Very little motion. If those joints wear out, we typically try non-operative treatment. We can try some injections occasionally under, fluoroscopically. We have an interoffice fluoro machine, which is kind of cool. We visualize your joints and under direct vision put a small, little needle in the small joint. May buy you some time, but over time, generally speaking, it's a pain issue. If it bothers you that bad, affects your activities of daily living, we go ahead and fuse those midfoot joints. Again, six weeks non-operative, or, sorry, six weeks of non weight bearing. We get a CT scan at that point, check for fusion, and get you in a boot at that point and then bridge you along.
Anyway, we have lots of ways to treat arthritis. It's probably the most common thing we see. Just give you some insight into what we do, and hope it gives you just a better understanding.