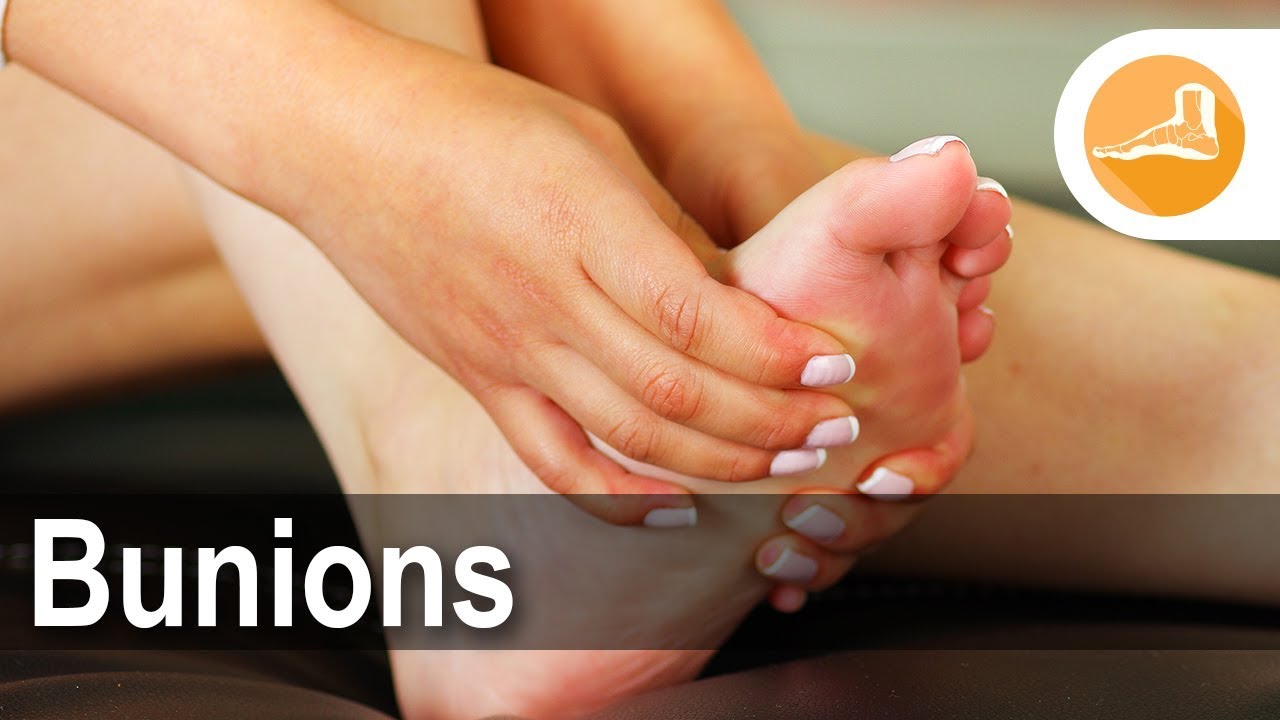 Bunions & Surgical Treatments
Video Transcription
Okay, so let's talk about bunions. So, what is a bunion? So, a bunion really is, it's that bump so see on your big toe on the inside part of it. That's a bunion by definition. A hallux valgus deformity, hallux is actually the big toe. So, a hallux valgus deformity is actually the angle you see where your big toe is starting to deviate to the outside of your foot. So, that's a hallux valgus deformity. But either way, we'll just talk about bunions and so bunions are a big problem and we see a lot of bunions. And so, what do you do about them? Is there any non-operative treatment for this? What's the operative intervention? What's the course of treatment, surgical?
So, non-operative treatment, why do you get bunions? And so, the majority of reason why people get bunions is there's a genetic component to it. So, either their mother, even their fathers, males get bunions too. So, typically, a grandmother or a mom gets a bunion. We do almost three to four female bunions to one males so it's predominantly a female issue but again we do see males. So, there's a genetic component to it. Shoe wear, so wearing extremely high heels or pointed shoes tends to jam the toes in the shoe and that causes the big toe to move to the outside as well. So, shoe wear can be an issue. Some people have what's called ligamentous laxity, meaning that just the collagen, the soft tissue in their joints is very loose and so, you put your elbow out and they're able to spin backwards. They can take their thumb and kind of touch their wrist. That's ligamentous laxity.
Well, that also effects the toes and so their toe is hyper-mobile so it begins to move and typically it moves in a bunion type direction. So, those are sort of the people that get this. And so, from a non-operative standpoint, obviously, wider shoes but very hard to convince someone who's professional who wears high heels to wear wide shoes. So, wide shoes, there's little bunion splints and so they're not gonna fix the problem. They'll help alleviate the symptoms, which is pain. And so, a little toe spacer will help straighten the toe wider in a shoe and take pressure off the joint and the joint capsule that's actually being stretched and being pulled over. And there's night splints you can wear at night but they can be somewhat tedious and patients typically don't like wearing a night splint every night even though it's not gonna fix their problem, it just kind of slows the progression of it.
So, what are indications to have surgery? So, typically, it's pain. You have to come in with pain. Progressive deformity, that means the big toe is continuing to shift and the issue with that is the big toe shifts over, the second toe has to do something so the second toe typically comes up and you get a crossover. Now, the second toe is sitting on top of the first toe. It's kind of like going to the mall, looking for a parking spot and someone parks over the line and it messes up the whole line. It's the same issue so the big toe moves over, second toe's gotta go somewhere so it moves up and causes a crossover and that's a problem. So, that's indication. So, pain, progressive deformity and difficulty with shoe wear. Those are sort of what we look at. If you come in and people say, "I just don't like the way my toe looks," that's not a good indication to operate.
And so, if you've got those three issues. So, how do you fix bunions? There's thousands of ways to fix bunions and I'd say every surgeon kind of has their own way of doing it. We use certain parameters with x-ray and also the angle, how big the deformity also determines what we do. So, I typically do two different types of procedures. Number one is something called a chevron osteotomy where we actually shave the medial. Everyone just thinks a bunion surgery is just shaving that bone. That's part of it. You can also sort of cut that bone and we end up sliding that metatarsal head over a little bit and placing, I use a pin, some people use screws or plates, I use a pin. We actually pull that pin six weeks after surgery so at the end of the day you're typically left with no hardware in your foot. Just, I think, every nice.
One of the nice things about the way we do bunions is we allow you to walk on your foot the next day after surgery. We put a special splint that we make, you can walk on your heel. So, that's a huge thing for patients because most people keep you off it for six to eight weeks, you can't put any weight down, which is a problem and so you're allowed to walk on your heel for one of the simple ways we do bunions now. If you have a very severe bunion where that metatarsal bump is huge and the tow is way over, we may do something called a Lapidus procedure where we have to fuse one of the joints in your midfoot and correct the alignment of that bone, which is a much bigger surgery. I would say we do about maybe 10 simple bunions surgeries to one of those complex ones. So, generally speaking, we don't have to do a lot of those more demanding and more trying surgeries for yourself. If we do that though you have to be off that foot for about six weeks.
So, generally speaking, you can walk on it the next day. For the more severe and rare ones, you have to be off it for six weeks. Either way, we see you every two weeks, we change your splint out and if you're walking on it, we change that every two weeks and at six weeks we pull the pin then you start doing some physical therapy after that. But it's a three to four month process till you're in a shoe and you're not really thinking about your toe at all. But anyway, again, many ways to fix a bunion. That's a way we've done it. We're very good at it and we've had great success with it and I hope that gives you some understanding of bunions, what they are and how we fix them.