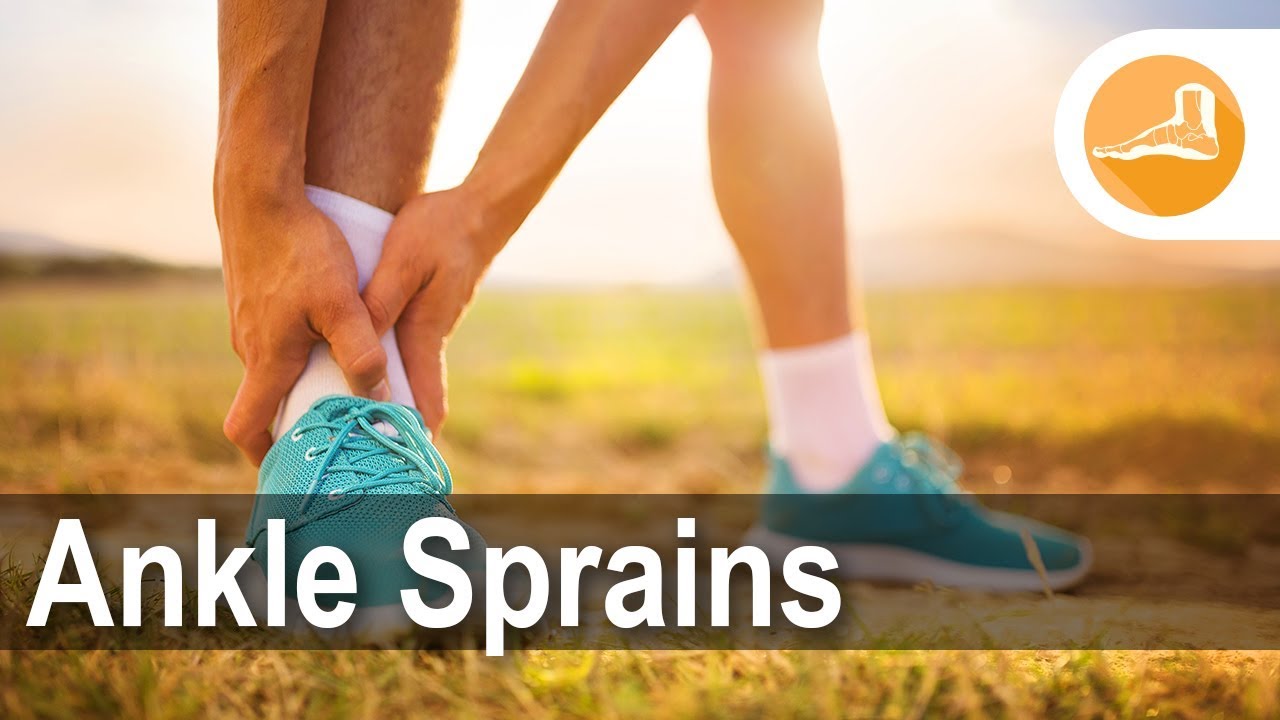 Ankle Sprains
Video Transcription
Let's talk about ankle sprains. So there's really two types of ankle sprains. There's your classic ankle sprain where you roll your ankle and you hurt the ligaments on the outside of your ankle, something we've all done, typically. There's also the high ankle sprain, which is a more rare ankle sprain, if you will. It involves different set of anatomy, different set of ligaments. Classically, it's more of a high energy sprain. You see this with more of our collegiate and professional athletes, a little bit higher up in the ankle. It's more of a rotational issue.
So let's talk about your classic ankle sprain first. Typically what happens is, we see a lot of ankle sprains, very common. Probably the most common ankle injury, really, in the world. So what happens is the foot typically is, usually you're on your toes. When you maybe say playing basketball, you jump up for a rebound, you come down and you step on someone's foot and the ankle rolls. Or you're just walking into the grocery store and you step on the curb or step on a pebble and your ankle gives. Either way, you roll that ankle.
Typically for a onetime sprain, even second, sometimes third, the treatment for that is typically going to be a a nonoperative treatment. So what we do is we see someone who has an acute ankle sprain, we obviously get an X ray, make sure you didn't break anything. We do a physical exam, see where you're sore. But generally speaking we're going to put you into what's called a walking boot. Ice, elevate, maybe some compression, some gentle mobilization, moving your ankle up and down after we see you. But a boot to protect you initially, just to get going, bring you back in a week or two, reexamine you and see how you're doing, making sure you're progressing.
It's those people that aren't progressing. Huge swollen ankle, still having a hard time walking. We begin to think, "Well maybe it's not just an ankle sprain." We give a nice talk at our football course every year about things you don't want to miss on an ankle sprain. Then maybe we start digging a little deeper and making sure we're not missing something. Maybe after two weeks we may consider getting an MRI just to give us a better imaging modality to make sure we're not missing a fracture or a stress fracture or something else it could be.
But generally speaking, 90% after an acute ankle sprain are going to get well, just going take time. So it's those patients that have a recurrent ankle sprains, ankle instability, where it keeps rolling on them regardless. Walk into a movie theater, step out of a car. So for those people that have failed physical therapy multiple times: bracing, taping. So bracing and taping can help quite a bit, but it's very difficult to wear a brace the rest of your life as you're going in to work every day. Obviously for playing sporting events, a little bit easier to do that. But for those recurrent sprains, we start saying, "Well, if it's not going to stabilize itself, then maybe we have to go there and fix it."
The reason for fixing it is for a couple reasons, A, so you don't sprain your ankle anymore. But every time you roll your ankle, you keep knocking off cartilage or keep stressing the ankle joint more and more, which can set in arthritis, which is a loss of cartilage. If we have to fix it, the good news is it's a great surgery, has about a 99% success rate. It's probably the best surgery that we ever do. And there's great literature to support all that.
So we typically do, it's called a, technical term is called a brostrom gould or a lateral stabilization. We go in there and we typically put a camera in your ankle. We look around, make sure the ankle looks okay and then make an incision on the outside of your ankle. Typically what we do is we, those ligaments, when they tear, they heal back, but they heal back typically loose. They'll tear again. Pretty soon, it's intact but it's just very, very loose. So we go in and we cut that ligament in half and we take suture and we suture it on top of each other and make it tight. Sometimes we'll augment that repair with an anchor or a special type of suture that's called an internal brace that provides much more stability to the ankle. Typically we do that.
You're non weight bearing for about four weeks, sometimes two. Then you start walking after that surgery at about the four-week mark, in a boot. We start therapy at the six week mark. But it's a process. I mean in terms of people that say, "When can I start running or jumping?" It's at least three to four months after that surgery before you sort of cut loose and do what you want to do. But you're probably going to be walking in a shoe about eight weeks after surgery out of that boot with physical therapy. So that's our typical ankle sprain, the most common one we see.
The high ankle sprain is very complicated. It's a much more involved, like I said, anatomy. Luckily for us, we have a weightbearing CT scanner. That weightbearing CT scanner has changed the way we can treat these, because we're able to see the relationship on the normal side versus the abnormal side. It just gives us much more information. The high ankle sprain is, like I said, very complicated to go into. But basically it has to do with the shin bone and the bone on the outside, your tibia and your fibula. There's a ligament that goes across there. It keeps those two bones together and actually keeps the [inaudible 00:05:22] talus bone, the ankle bone, from shifting out. So if there's any change in that, we're going to have to go in there and stabilize that ligament with a procedure.
The nonoperative treatment, again, is a boot, a brace, those things we talked about. But the healing time for a high ankle sprain is much, much longer than your traditional ankle sprain. So hopefully that gives you some insight as to the two, and hope that gives you better understanding.